Grooming for Dogs
Policies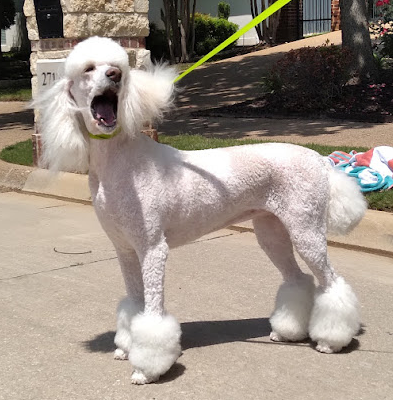 Less than 30 lbs.
Must be able to stand for the entire groom (90 minutes).
Unable to groom aggressive or biting dogs.
Nervousness or fearfulness is acceptable, but not to point where the dog eliminates in my grooming unit.
1, 2, or 4 week schedules are offered. I am a maintenance groomer.
No seasonal or occasional grooming.
There are exceptions, but they are rare.
Longer than 12 weeks is considered neglect by industry standards.
I do not de-mat dogs. It is unethical for me to put a dog through a painful cosmetic procedure.
You're welcome to use a veterinarian for primary shave down and exam. At which point, I'll gladly accept your pet on a regular schedule.
Coat care lessons are free.
Dog owner must contact me to make appointments and discuss details – NEVER a personal or professional assistant.
Pricing
Grooming is fully inclusive.
Full grooms start at $80 + tax. (Use this link to get a specific quote).
There are two pricing tiers – One for dogs on a regular schedule and an hourly rate for dogs in extreme condition.
Price is determined by breed, special needs, frequency of grooming, and type of style required.
I accept all major credit cards or cash.
I do not accept checks.
Tips are greatly appreciated but NOT required. I actually pay my taxes. Apologies for any disappointment but bargaining for cash will not be entertained. If you must ask your wife/husband, please do so before you call me. Thank you again!
I no longer groom double coated dogs which require de-shed/blowouts.
| Breed | Base Fee |
| --- | --- |
| Basset Hound | $90 |
| Beagle | $60 |
| Bichon & Bichon Mix | $90 |
| Boston Terrier | $60 |
| Cairn Terrier | $80 |
| Chihuahua (short hair) | $35 |
| Chihuahua (long hair) | $45 |
| Dachshund (short hair) | $60 |
| Dachshund (long hair) | $80 |
| French Bulldog | $60 |
| Havanese | $90 |
| Jack Russell Terrier | $70 |
| Lhasa Apso & Lhasa Apso Mix | $90 |
| Maltese & Maltese Mix | $90 |
| Pekinese & Pekinese Mix | $90 |
| Pomeranian | $90 |
| Poodle & Poodle Mix (toy) | $90 |
| Poodle & Poodle Mix (miniature) | $90 |
| Pug | $60 |
| Schnauzer (miniature) | $85 |
| Scottie | $90 |
| Sheltie & Sheltie Mix (under 30 lbs) | $90 |
| Shih Tzu & Shih Tzu Mix | $80 |
| Westie | $90 |
| Yorkie & Yorkie Mix | $80 & up |
Get a Quote